Ref:
Date:
Location:
Photographer:
Ref:
Date:
Location:
Photographer:
Darg and Drams at the Meffan Gallery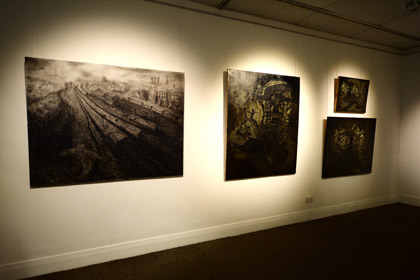 My work generally focusses on people in action. The locals around my studio refer to them as my mannies, an affectionate Scottish term. I like to observe their gestures, habits and characters, absorbed in their work and at one with their environment. Movement is one of the key things that I like to capture in my work. The project Scotland: Darg and Drams sprung into life during the summer of 2014.
All my work relates to drawings I make from life, often created at unique locations, amidst the hustle and bustle, preferably with production in full swing. The last few years I embarked on a project entitled Scotland: Darg and Drams. This project has taken me to some incredible interesting and exciting environments;
shipyards
,
cooperage
,
heliport and hangars
,
Edinburgh Fringe
and a
lifestock auction
and
Woolmill
.
Scotland: Darg and Drams has therefore grown into a comprehensive body of work and exhibited in a solo show at the Meffan Gallery. My engineering professor came up with the project title explaining to me that the old British word
darg
meant a day's work.
Drams
of course reflects the whisky component of the art work, but also I associate it with having a good time after the work is done and enjoying for instance some uplifting fiddle music. Having lived in Scotland for over a decade I see its beauty in the natural grit of everyday life. My picture-postcard Scotland gives a 'rough around the edges' portrayal, a Scotland absorbed in work and play, and at one with its environment.
See
interview with scottish-art-scene
and
press release
and a pencil drawing below done from the front row of a venue at Edinburgh Fringe Festival used as a feature by
ArtMag
.